The time interoperability solution of navigation system proposed by the National Time Service Center of the Chinese Academy of Sciences(NTSC) on behalf of BDS was written in the official text of the joint statement issued by the 14th meeting of the International Committee on Global Navigation Satellite Systems (ICG-14) on December 13, 2019. It marks that the BDS system time interoperation solution has received international recognition, which will promote the integration and application of existing international satellite navigation systems.
The conference was organized by the United Nations Office for Outer Space Affairs from 8 to 13 December 2019 in Bangalore, India. The statement declared that the single-station time offset monitoring and direct broadcast GNSS time offsets parameter scheme recommended by NTSC have been adopted by all GNSS providers.
As early as the conference(ICG-12) held in Kyoto, Japan, in 2017, researchers from NTSC proposed the GNSS time offset monitoring methods of single station, multi-station and time comparison link (including UTC / UTCr / UTC (k) link) based on the actual situation of BDS, independence of each satellite navigation system, and promotion for the global satellite navigation system compatibility and interoperability,
After discussions and refinements in 2018 and 2019 in Vienna, Austria, and the ICG-13 Conference in Xi'an, China in 2018, it was finally affirmed by each GNSS provider, and confirmed on the ICG-14.
In addition, the GNSS time offset interoperability method based on UTC / UTCr / UTC (k) which jointly recommended by the International Bureau of Weights and Measures (BIPM), Russia and China has also been written in a formal joint statement as an important GNSS time offsets monitoring method.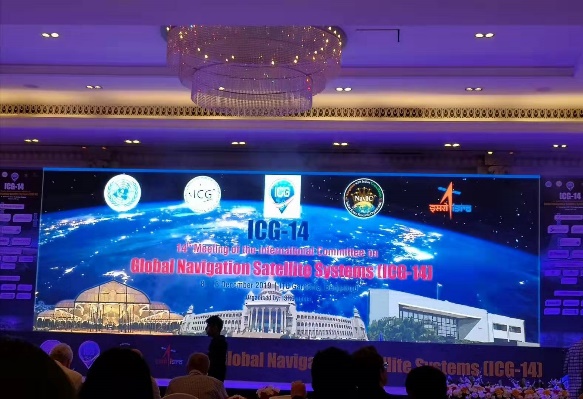 ICG-14 (Image Credit: NTSC)