On Oct. 15, NTSC held the "symposium of time frequency and satellite navigation in the 50th anniversary of establishment" in the lecture hall of complex building. Wei Ziqing, academician in Xi'an Institute of Surveying and Mapping, Wang Yiqiu, professor in Peking University, Jiang Zhiheng, researcher in time department of BIPM, were invited to give excellent academic reports. More than 180 people in NTSC, including researchers and postgraduates, listened to their reports, with the seminar hosted by director of NTSC, researcher Zhang Shougang.
First, Wei Ziqing made a report titled Several Prospective Problems about Geodetic Survey, in which he elaborated the relevant front scientific problems, basing on the close correlation of geodetic survey with astronomy and time service, in the aspects of development of geodetic survey, geodetic boundary value problem, measuring problems of vertical line deviation, measuring problems of high altitude and navigation problems of neutrino.
Then, Wang Yiqiu reviewed in detail the development history of atomic frequency standards of our country in his report titled Atomic Frequency Standard Needs Improvement, Time-Frequency System Needs Construction, analyzing the current development situation of our country and the differences from foreign countries, exploring the thinking of resolution, and proposing suggestions for the existing problems and development direction in the national time-frequency system.
Last, Jiang Zhiheng gave a report titled Coordinated Universal Time — the result of a fruitful cooperation.
The academic reports from these three experts have widened the view of our researchers and expanded their research thinking, playing a positive role in development of future research work.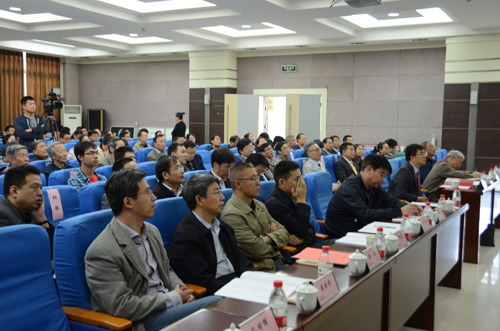 (At the scene of the report)