On October 18, the scientific and technological achievement of the National Time Service Center(NTSC)of Chinese Academy of Sciences(CAS), "Beidou: Guarding the Serenity of Sarez Lake", was successfully selected into the top of ten cases of "Digital Economy Contributing to Inclusive Growth, Benefits for all".
The achievement was released at the high-level forum on digital economy of The Third Belt and Road Forum for International Cooperation. Director of the National Time Service Center, ZHANG Shougang, was invited to participate in the forum.
In recent years, NTSC together with the Xinjiang Institute of Ecology and Geography of CAS and Research Center for Ecology and Environment of Central Asia of CAS(Dushanbe Branch), established the monitoring system based on Beidou technology for the Lake Sarez Dam through long-term cooperation, filling the gap in dam safety monitoring of the world's highest altitude natural barrier lake.
It carried out technology demonstration and promotion in Central Asia, promoting the international application of Beidou.
The project helped the United Nations international assistance and disaster reduction and prevention cooperation, played a positive role in the safety of the dam and the livelihood of the people in Central Asia, and promoted the economic and social development of the countries in the Central Asia region.
This achievement is a model of Beidou service to the world and the benefit of mankind and the cooperation between China and Central Asia in building the "Digital Silk Road" and sharing the "digital economy".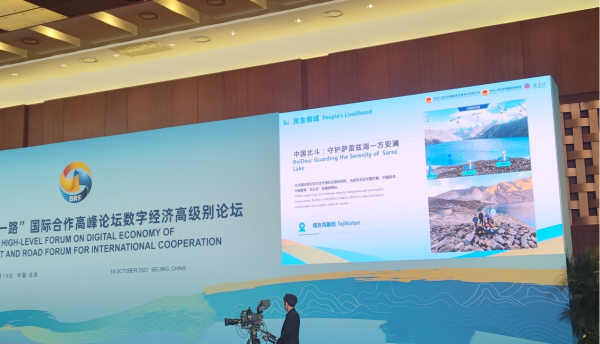 "Beidou: Guarding the Serenity of Sarez Lake", was selected into the top of ten cases of "Digital Economy Contributing to Inclusive Growth, Benefits for all"(Imaged by NTSC)
Related Links:
Beidou Global Service to Help Deformation Monitoring of Earthquake-active Sarez Lake Dam
Deformation Monitoring System Based on BeiDou Technology for Sarez Lake Dam Goes a Further Step
Sarez Lake Dam Deformation Monitoring System based on BeiDou Technology Put into Operation
Improved Deformation Monitoring System for Sarez Lake Dam Put into Operation
BeiDou-based monitoring system in operation at world's highest dam