On June 11th,"Ancient China Navigation Exhibition-from Compass to BeiDou" undertook by National Time Service Center, Chinese Academy of Sciences was opened at Rotunda, United Nations in the Vienna International Center. Ambassador and Permanent Representative of China to the United Nations His Excellency Mr. Wang Qun, Deputy Director General of Ministry of Foreign Affairs of the People's Republic of China Mr. Hu Bin, UNOOSA Director Ms. Simonetta Di Pippo, Deputy Director of China Satellite Navigation Office Mr. Ma Jiaqing, together with more than 80 representatives from China's National Space Administration, satellite navigation providers from the United States and Russia attended the opening ceremony.
The exhibition covered an area of about 200 square meters with the theme of "from Compass to BeiDou". It has five sections designed by the outreach department of National Time Service Center: "time service section-time comes heavenly, served sincerely", "navigation section-lodestone governing south, star-guided ocean crossing", "geodesy section-grid mapping, land surveying", "exchange section-one belt one road, people to people bond" and "BeiDou-serve the world, benefit the humankind". The exhibition showcases the development history and splendid achievements of ancient Chinese in the fields of time service, magnet navigation and astronavigation, mapping and surveying. It also shows the important role the navigation technology had played in guiding the working class's livelihood and exploration of the unknown world for five thousand years, as well as the cultural the technological exchanges between Chinese and western countries based on the silk road on the land and sea with navigation technology as the link.
At the invitation of UNOOSA, this exhibition was sponsored by Chinese delegation and China satellite navigation office, undertook by National Time Service Center. It promoted the world's deep understanding of China's profound navigation technology and the latest construction achievements of Beidou system with the demonstration of the profound accumulation of the National Time Service Center in the area of time frequency and popularization of navigation, as well as the expression of the vision that BeiDou System is willing to strengthen exchanges and cooperation with countries around the world, shared development outcomes and promoted the vigorous development of the global satellite navigation industry.
The exhibition, as one of the important activities of the UNOOSA conference, will last from June 11th to June 21st.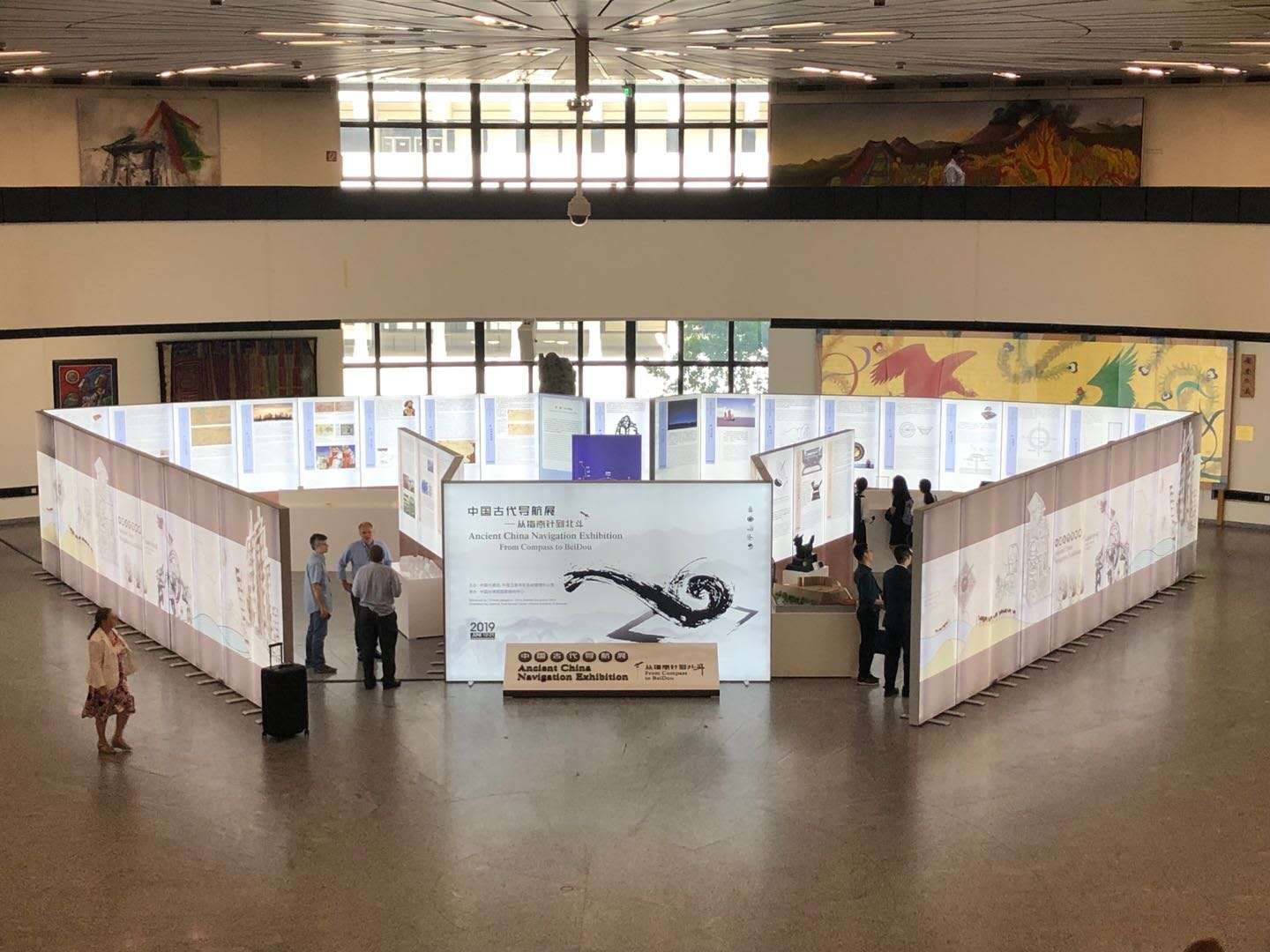 On-site(Image by NTSC)
Guests Visit the Exhibition (Image by NTSC)